IPC Cares. The evidence is mounting: burnout and compassion fatigue contributing to staff turnover and veterinary suicide rates. It's not inevitable. We can use the same care, education, and analysis we so willingly give our patients and clients to better care for ourselves.
Innovetive Petcare believes it is incumbent upon all of us to be warriors in the battle against compassion fatigue, so we launched two initiatives this year.
1. Innovetive Petcare rolled out an Employee Assistance Program for members of all our practice teams. Now every one of our team members has free access to resources and tools to better manage work and life, including:
Unlimited counseling




Financial coaching and counseling




Will preparation




Tobacco cessation coaching




Bereavement counseling




And more



2. The Fabric of Compassion Project. As Innovetive Petcare travels the country this year, meeting veterinary students, veterinarians, and veterinary team members, we want to bring practical supportive resources as well as awareness to this important issue. Stop by our conference booth to pick up your free copy of Put Your Oxygen Mask on First, a pocketbook with self-assessments and practical tools to fight compassion fatigue and burnout. It's super useful but also compact so you can stick it in a pocket, a purse, or a backpack.
We've also created an expanded digital version for you to download here.
Contribute your pattern. We hope that you will be part of the rich pattern that binds the veterinary community together. Support your colleagues by contributing your unique pattern, by emailing it to Innovetive Petcare through clicking the button below or by drawing on our art board at our conference booth. By joining everyone's patterns together, we'll weave beautiful art as well as compassion and support for our colleagues. Patterns will be selected to create a custom piece of art ready for sale at the end of the year. ALL proceeds of the sale will go to support Not One More Vet, Inc.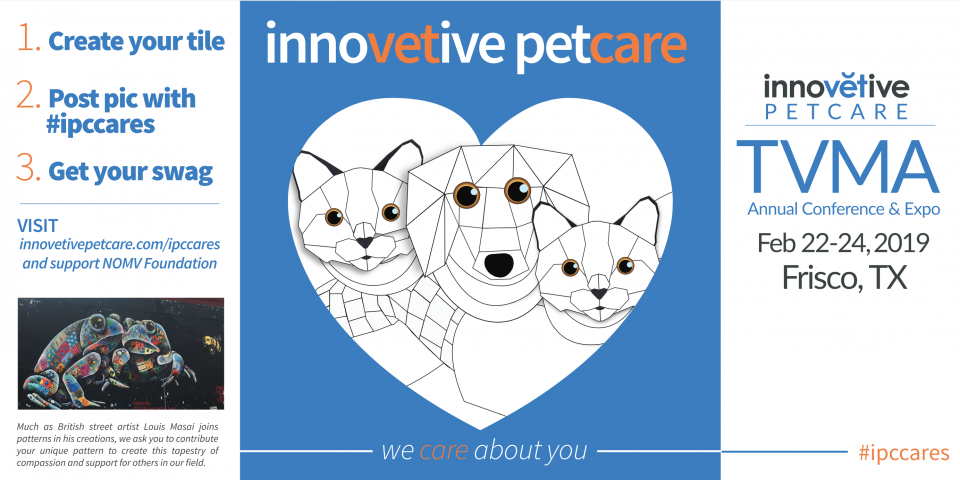 Innovetive Petcare owns and operates veterinary practices across the U.S. Our core values including caring for our partners, our team members, and our communities as well as training and development for all team members. For more information about Innovetive Petcare, please contact Dr. Karen Parker at kparker@innovetivepetcare.com or 512.379.2904.
innovetive petcare 512.969.6933